Interactive Map of Italy
Italy is a Republic founded in 1861 and located in the area of Europe, with a land area of 301231 km² and population density of 201 people per km². Territory of Italy borders Austria, France, San Marino, Slovenia, Switzerland, Vatican City. Gross domestic product (GDP) is of about 207000 millions of dollars dollars.
Geography of Italy
Monte Bianco is the highest point in Italy at an altitude of 4810 meters, instead the lowest point in the country is Jolanda di Savoia at −3 m.
Simple Maps of Italy
Here are the best maps of Italy at high resolution. Below you find printable maps showing Italy in different styles and positions.
Frequently asked questions about Italy
How is Italy divided?
If you are looking for regions or provinces in Italy, here are all the main areas:
Abruzzo
Apulia
Basilicata
Calabria
Campania
Emilia-Romagna
Friuli-Venezia Giulia
Lazio
Liguria
Lombardia
Marche
Molise
Piemonte
Sardegna
Sicily
Toscana
Trentino-Alto Adige
Umbria
Valle d'Aosta
Veneto
What are the main points of interest in Italy?
The major tourist attractions in Italy are Colosseum, Cathedral of Santa Maria del Fiore, Cinque Terre, Pantheon, Trevi Fountain, Uffizi Gallery, Leaning Tower of Pisa, Roman Forum, Saint Mark's Basilica.
What is the flag of Italy?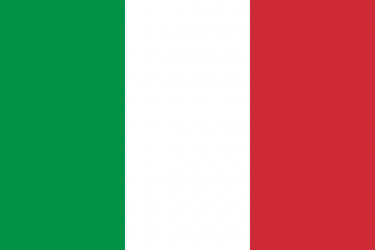 Flag of Italy
What is the capital of Italy?
The main city and capital of Italy is Rome.
What is the currency in Italy?
Official currency of Italy is Euro.
What is the population of Italy?
In Italy there are 60453800 people.
What is international phone code in Italy?
Italy telephone code is 39.
Other Country Maps in Europe